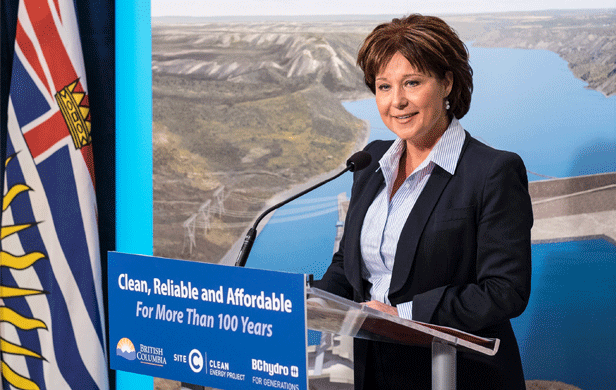 Almost four years ago I prepared an article on the financial affairs of BC, musing about the way BC voters returned the BC Liberals to government. This time I am posting their record before a vote in hopes that there will be a different outcome.
It began with a quotation from "The Divine Comedy" by Dante Alighieri (otherwise known as Dante's Inferno): "The Darkest Places in Hell are Reserved for those who maintain their Neutrality  in Times of Moral Crisis."
In that same piece, I warned:
[quote]The citizens of BC had a front row seat to an election outcome that remains almost impossible to comprehend. After a determined push-back of the much reviled HST it appeared very probable that the BC Liberal party would go down to a well-earned defeat. It would have been a defeat, not so much because a better option was thought to be on offer, but more because enough voters had lost their trust in those who seemed divorced from contemporary economic realities and who were not serving the public's interest.[/quote]
Ahead of next month's election, we seem to be in a similar place as four years ago. The BC Liberals have been shovelling out large amounts of propaganda, some paid for by using the taxpayer's own money, that include "alternative facts" and an avoidance of mentioning other inconvenient truths. Fact one, as presented by the BC Auditor General, is the staggering amount, $101 billion, of "Contingencies and Contractual Obligations" posted a year past. These obligations come from BC Hydro's commitments to buy power from private suppliers at far above market rates, and from other infrastructure built under public-private arrangements. As such, it is in addition to our conventional debt and hidden from public view. The Government carefully avoids all talk of this debt and of BC Hydro's "regulatory assets" accounts, which stand at another $6 billion.
Within Canada, we in BC have the dishonour of having the largest total of this type of debt of all the provinces and about 75% of what is shown for the Government of Canada. Hands-down, BC wins the race to be the most indebted province in Canada (see page 40 in the Auditor General's report dated Feb. 2017). This condition is not accidental.
Back in 2013, I also wrote:
[quote]Standard & Poor's issued a public report dated 15 April, 2011 titled "Canadian Provinces Face Tough Choices in Restoring Fiscal Balance". The report directed provinces to curb rising debt levels and to correct the practices of deficit budgeting. It also recommended operating expense savings to be found in the budgets for health care and education.
"Rising debt service burdens further limit financial flexibility because as these burdens increase as a share of total spending, they crowd out other program spending," claimed the report. "Debt service expenditures are contractually bound and as such cannot be easily cut." [emphasis added]
This was an unambiguous disclosure that provincial credit ratings were under negative scrutiny, over two years ago.[/quote]
All those years ago, the credit rating agency gave the provinces the best of their advice so that credit downgrades could be avoided.  The BC Liberal government certainly paid attention to the suggestion that education and health care budgets be trimmed but that's where it ended. The chart below by Norm Farrell makes it blindingly clear that the BC Government failed to read or heed the recommendation to "curb rising debt levels".  Between when the S&P report was issued and last year, BC's total financial liabilities increased from $117.8 billion to a staggering $185.7. That is a near +60%, exactly at the time the credit rating agency is suggesting a "go slow" on borrowing, either by direct means or by the indirect method of signing long-term contracts.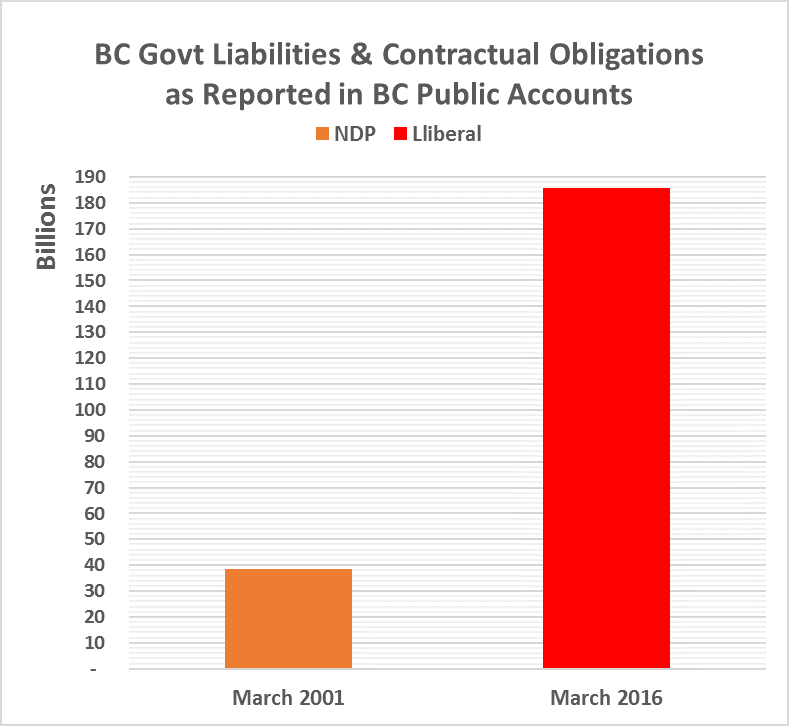 This S&P report is a one-dimensional view of financial affairs – only about spending and borrowing. There should always be an inclusion of the revenue side to deliver balance in such discussions. What the BC Government avoided talking about was government revenues and, my goodness, does it show. For the period 2011 through to 2016 the per person revenue barely increased from $9,228 to $9,844. Removing inflation, this was not a record of growth but the opposite and there is no new evidence that this will reverse.
On that note, eminent geologist and energy expert David Hughes has taken the trouble to examine the reported volume of BC natural gas production (almost totally for export) versus the royalties booked by BC. In 2005, BC's production was about 2.8 billion cubic feet per day and natural gas royalties were about $2.1 billion per year. Fast forward to 2016 and the respective numbers were 5.2 billion cubic feet per day and $200 million per year. In David's words, "Production has doubled since 2005 whereas revenue is down 87%".  If this is not a picture of giving away public resources I can't imagine worse, unless maybe fresh water. If the public of BC are not benefiting from the extraction and sale of natural gas, then who is? This is the opposite to how the Norwegians do things. Perhaps we should hire folks from there to manage our natural gas industry.
Back to 2o13. Here's what I said:
[quote]So what did the BC Government appear to do knowing this was like a warning shot across the bow? They did screw down on budgets for education and health care. They did not seriously attempt to find more revenues but rather promoted the fiction that the natural gas industry would provide fiscal salvation, which it did not nor is likely to happen despite election rhetoric. The government certainly did not curb its appetite for ever more debt.
At the end of fiscal 2012 (one year ago) total provincial liabilities reported by the Comptroller General were $70.358 billion or 100% greater than when the Liberal government first came into power. What was even more distressing was the government's deliberate non-disclosure of "Contingencies and Contractual Obligations" the BC Auditor General publicly reported to be $96.374 billion. This liability amount was separate from the $70 billion, as confirmed directly with the Auditor General's office. These provincial liability values were directly supplied to the four party leaders just following the writ being dropped, so they all knew, but for what ever their reasons, they remained silent. In a few words, BC voters were clueless about the province's financial condition prior to voting, virtually all politicians and the mainstream media wanted to practice willful ignorance. It is not hard to understand why Premier Clark avoided this topic but why the others to do so is a big mystery.[/quote]
So what should be in BC's future? The biggest standout is the rapid increase of provincial liabilities. A credit downgrade has to be a high probability and that will make everyone's cost of living in BC higher. Suspending projects like Site C would possibly defer any credit downgrade. Carrying on spending and borrowing as before will only make the possibility of the downgrade greater. The second biggest issue is the deliberate reduction in revenues from the extraction of natural resources. If there is no "pricing room" for higher royalties, the solution is not to give away real assets for the sake of a handful of jobs but rather to wait for the next cycle to develop.