About 15 years ago one of the hot topics in the Vancouver papers was the plan for an at-grade light rail line from Coquitlam to UBC that would have taken up two lanes on Broadway and the Lougheed Highway. The plan was that rapid transit would connect Coquitlam and central Broadway within a few years. Shortly thereafter, the provincial government suddenly switched to a much more expensive – and never completed – SkyTrain line: today's Millennium Line. Both Coquitlam and UBC are still waiting for rapid transit, and they may wait for decades, given the estimated $4.2 billion needed to connect both with SkyTrain on elevated guideways and subway tunnels.
The long-promised Evergreen Line SkyTrain branch to Coquitlam and the Northeast Sector is estimated at $1.4-billion but only $800 million has been committed by senior governments, leaving a $600 million gap. Translink is so strapped for cash that it was forced to mothball one of its three Sea Buses to reduce operating costs. The $2.8 billion estimated cost of extending the Millennium line to UBC is so daunting that it makes this funding gap insignificant.
In New York, the squeeze on the transit system is more intense. As transit ridership is growing rapidly, the aging subway system needs billions in upgrades, and even a modest extension to one line would cost billions they don't have. But instead of crying about the expense of new subways, New York is putting rapid transit on the street with Bus Rapid Transit.
Bus Rapid Transit is a simple concept – you give buses a dramatic makeover that makes the rider experience much like rapid transit on rails but with a much lower capital cost. The main elements are dedicated lanes with enforcement to keep cars out, signal priority so buses seldom have to stop at traffic lights, and all-door boarding to reduce the time spent at stops. In Europe, many transit agencies no longer differentiate between Bus Rapid Transit and Light Rail lines. Bus Rapid transit is typically a bit faster than light rail, and has about the same maximum capacity. It can also greatly reduce operating costs as faster and larger buses carry more passengers per hour.

The first full-featured Bus Rapid Transit lines were built in Curitiba, Brazil in the late 1970s, along rights of ways previously designated for freeways. But there are now hundreds of BRT lines around the world, including dozens in Europe and China. Los Angeles was an early adopter in North America with the Orange Line BRT. Ottawa also started a BRT line, but never completed the essential section into downtown because of reluctance to re-allocate street space to transit.
Now New York is now leading the way in North America. The city is creating bus lanes on city streets for what they call Select Bus Service (SBS). The Bx12 line is the prime example, with the whole lane painted red to make it crystal clear that cars are not welcome. In June, the New York State Assembly passed a bill authorizing the transit agency to install digital video cameras on the front of BRT buses to photograph and ticket vehicles that intrude into bus lanes. Soon, every SBS bus driver will be able to document anything that gets in their lane, a powerful incentive for drivers to stay out of transit lanes.
The next step for New York is the 34th Avenue Transitway, with physically separated bus lanes, scheduled to open in 2012. But this line is not designed to be particularly rapid; it will stop far more frequently than a typical rail rapid transit line.
This is where Metro Vancouver could easily outdo New York. Our transit system is renowned for the B-line express buses that run on the same streets as local buses, but only stop every kilometre or so. 'Rapid transit' can only be rapid if it has widely spaced stops. Vancouver also has one of the largest fleets of electric trolley buses in the world, so upgrading to electric BRT would be easy and cost effective – we already have the trained technicians and maintenance equipment. On Hastings Street in Vancouver there is already a double set of wires in place, ready for express trolley buses.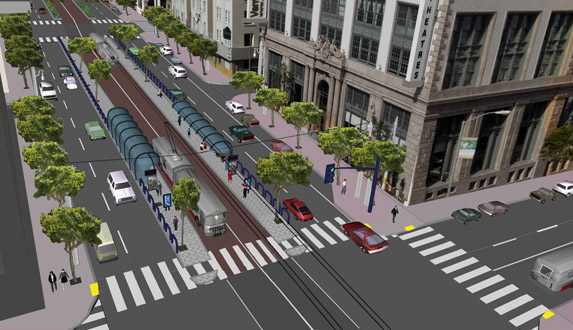 Translink's 2006 cost estimate for high end Bus Rapid Transit on the Evergreen Line route was $384 million, less than a third of the cost of SkyTrain technology and less then half of the $800 million senior governments have already put on the table. SkyTrain would be perhaps five minutes faster, but could leave riders waiting for another 15 years or longer to get the financing in place.
The same applies to all the rapid transit proposals around the province. The Broadway-UBC line in Vancouver, King George line in Surrey, and the Victoria to West Shore Line are all stalled for lack of funding. With electric Bus Rapid Transit, all of these lines could be operating within two years for a very reasonable cost. The provincial government plans to spend more money on one dubious urban freeway project than it would cost to build all these BRT lines. Cancelling the controversial South Fraser Perimeter Road freeway through Surrey and Delta would save about $2 billion. The rationale for the SFPR truck freeway – growing container imports from China – disappeared when container volumes dropped 19% in 2009.
What are we waiting for?