Check out this story from the Sightline Institute's blog, on a cargo vessel that smashed through the coal terminal at Deltaport recently. (December 7, 2012)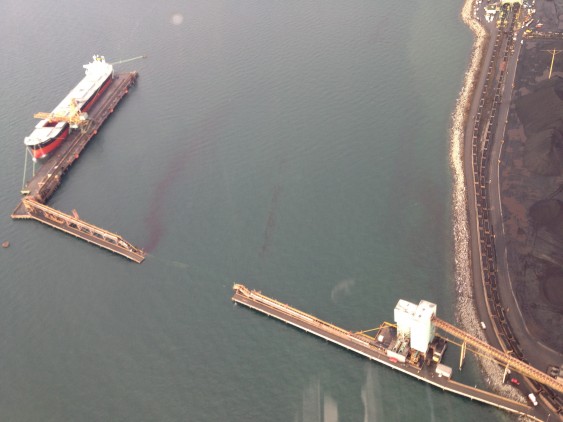 That's a photo taken this morning of British Columbia's Westshore Coal Terminal. A cargo vessel smashed through the center of the loading trestle—thus the big gap in the middle—putting it out of commission and dumping coal directly into the Strait of Georgia. The coal contamination is clearly visible as the dark streaks in the water.
CKNW News has the story. Here's video footage of the scene.
It's hardly encouraging that Port Metro Vancouver, the same agency that operates this facility, is trying to build new coal shipping capacity on the Fraser River.
Today was a rough day for coal shipments in the Northwest. Also this morning, a coal train broke down on the tracks in the middle of Mount Vernon shutting down local streets for nearly an hour.
See original post: http://daily.sightline.org/2012/12/07/nothing-can-go-wrong-at-coal-terminals/