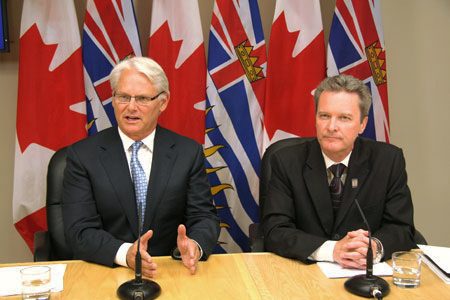 It might be instructive to the citizens of BC to have a financial report card on their Provincial Government before casting their vote in the coming election.
A good starting point is the 2001 publication by Gordon Campbell and the BC Liberal Party titled "A Vision for Hope & Prosperity for the next Decade and beyond". Ten "visions" were presented – numbers 9 and 10 are of particular interest:
9. The most open, accountable and democratic government in Canada.
10. Responsible, accountable management of your public resources and tax dollars.
It is generally known that our government tasked BC Hydro to contract with Independent Power Producers (IPPs) for new electricity generation. These contracts are for lengthy terms and billions of dollars in payment obligations. Contrary to "Vision 9" the government made these contracts secret as shown by a reply from the BC Utilities Commission dated December 29, 2009: "Pursuant to Section 71 of the Utilities Commission Act, we are unable to fulfill your request as the Agreement [contract] was filed explicitly in confidence by BC Hydro."
Because these contracts have been made secret it means we can speculate as to why. The most obvious reason is that the government knows the IPP contracts are not in the best interests of the public. That in turn means they are very much in the interests of private investors who wish to get a "free ride" on the citizens of BC. It is highly likely these contracts will be with us for 20-40 years and while we pay off the cost of this infrastructure, we likely earn no ownership in the end. Nice work if you can find it.
Next, let's take a look at what the BC Auditor General had to say about BC Hydro's accounting practices in a letter dated October 2011:
Unfortunately, though, government is requiring BC Hydro to adopt part of an American accounting standard that allows rate regulation, abandoning the transparency that will be required by Canadian GAAP. It is my hope they will reconsider.
They have not.
It takes little imagination to understand the departure of the Auditor General after trying to get full disclosure at BC Hydro and from the government itself. There have been more than ten years of annual reporting inadequacies that the government has ignored, mostly regarding disclosures of debts.
To help readers come to grips with this deliberate pattern of non-disclosure the following graph is offered for your consideration.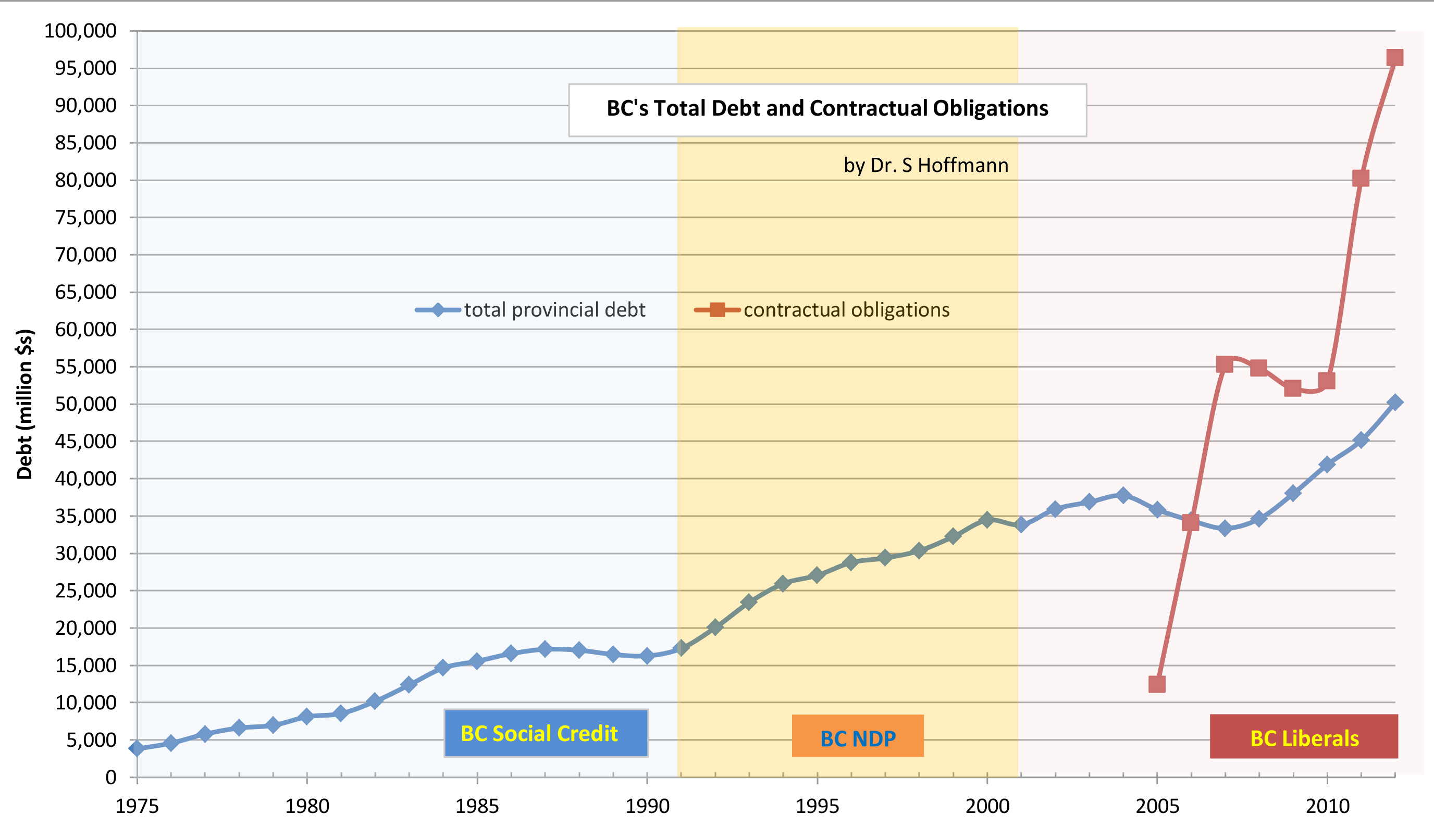 The period shown is a little greater than 35 years.  For the first 15 the government of the day was BC Social Credit. Reported debt in that period tripled from a low base of $5 billion. However, it should be noted that a lot of infrastructure was built in that timeframe.
The following 10 years was a period of the BC NDP having dominion in the Legislature. In that period the reported debt doubled to about $35 billion, or $8,428 per capita.
Staying with this theme the Liberals declared they would "Pass real Balanced Budget legislation, to make balanced budgets mandatory by our third full budget and to hold all ministers individually accountable."
They also vowed to "Pass real Truth in Budgeting legislation that ensures all provincial finances are fully, accurately and honestly reported under Generally Accepted Accounting Principals."
Since making those bold promises the record does not provide evidence of follow through. Since 2005, the government has been accumulating debt at a breathtaking pace, mostly under the heading of what the Auditor General calls "Contingencies and Contractual Obligations".
By letter, he states that the total for fiscal year end 2011/12 in this category is "$96.374 billion and can be found on the Summary Financial Statements page 77." Before anyone asks if there is double counting of this number, the answer, according to the Auditor General, is "They are not included in the liabilities recorded on the Summary Financial Statement's Consolidated Statement of Financial Position."
Virtually every person we have spoken with has had no idea that on top of the $70 billion in liabilities (debt + other liabilities), that the government disclosed a year ago, there is an additional $96.374 billion in contractual obligations. That translates into a total debt of approximately $170 billion and will be significantly more when the 2012/13 financial reports are presented. In the last eleven years under the BC Liberal government the provincial debt has increased by a factor of 5 times, or to a per capita amount of about $40,000.
Provincial Budgeting Considerations
When there is talk of the growth in provincial GDP (economy), one should realize that it happened almost exclusively because of the binge in borrowing and building, a practice that cannot continue without serious consequences for the population. Debt repayment and its attendant interest has and continues to crowd out all other funding requirements when preparing budgets.
Two years ago Standard & Poor's Credit Rating Agency delivered a report titled "Canadian Provinces Face Tough Choices in Restoring Fiscal Balance".
The report states, "Health care and education make up a commanding share of their [provinces] overall spending; typically health care and education spending accounts for more than 65% of a province's operating expenditures."
"Rising debt service burdens further limit financial flexibility because as these burdens increase as a share of total spending, they crowd out other program spending."
Two years ago this was in the hands of the government, yet it did not curb borrowing and spending in any discernible way.  Nor did the troubling news cause the government to seek new revenues from the "free riders" and those with the capacity to pay more. In stark contrast to heeding these warnings, the government resolved to further cripple budgets for health care and education.
The Liberal government of BC has prepared a financial "poison chalice" for the citizens of BC through runaway debt. The consequence of too much debt is loss of democracy – at least that is what the Greeks, Cypriots, Italians, Spanish, Portuguese and Irish have realized.
—————————————————————————-
References:
BC Ministry of Finance, Provincial Debt Summary/ Debt Statistics
BC Ministry of Finance, Contractual Obligations Supplemental/Public Accounts/Summary Financial Statements
Links to data sources for total provincial debt:
Links to data sources for contractual obligations: