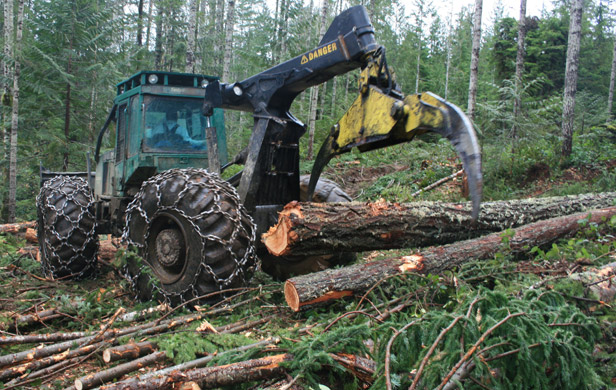 By Peter Ewart – republished from 250news.com
It was a victory for the forestry sector as a whole and for all British Columbians. On August 28, quietly and without fanfare, Forest Minister Steve Thomson released Jim Snetsinger's report on area-based tenures.  Although thanking Mr. Snetsinger for "a comprehensive and professional report", Thomson noted that the Ministry "will not be proceeding with legislative changes that would enable forest licence conversions in fall 2014 or spring 2015."
Tsilhqot'in decision played a role ion delay
According to the Minister, the decision not to go ahead with the controversial change to forest tenure at this time (which had as its core the creation of more Tree Farm Licences controlled by a few big companies) was because of the recent Supreme Court Tsilhqot'in decision and "requests from forest companies and communities to focus on key immediate priorities."
Indeed, many came forward in the forest sector and forestry-based communities across the province to express their opposition to the proposed changes, whether at public meetings such as those organized locally by the Stand Up for the North Committee, or in written and oral submissions to the Snetsinger review panel.
Putting global giants ahead of local forestry operators
This is the second time in two years that the government has put forward the TFL conversion idea. And it is the second time it has been forced to withdraw it because of strong public opposition to what many feel was a further step towards privatization of our forests.  It raises the questions – How did the government get into this muddle?  What is the fatal flaw in its forest policy?
In a nutshell, it is the fact that the government appears to base its forest policy on catering to the interests of a few, increasingly globalized, big companies at the expense of all the other sectors of the forest industry, as well as British Columbians as a whole.
Too often, these other sectors are left out in the cold. They include workers, small and medium companies, independent wood processors, contractors, community forest associations, environmental and wildlife organizations, wood lot owners, forestry scientists and professionals, tourist operators, as well as, in the broader sense, First Nations and forestry-based communities.
Even Canfor speaks out against change
With this most recent attempt to impose more TFL conversions, the provincial government really botched the job as it didn't even have all the big companies on board, rather only a small faction.  That was clearly illustrated when the CEO of Canfor Corporation, Don Kayne, spoke out against the proposed TFL conversions, charging that the government was "forcing unwanted tenure reform" that "brings the risk of serious repercussions for our sector" and "unfairly advantage some companies over others."
BC needs real plan for forest renewal
So where do things go from here? The government, of course, has left itself wiggle-room to bring in TFL legislation in the future.  But the forest minister says that, for now, the focus will be on immediate priorities.
What will these priorities be? Will it be renewing our forest industry and bringing our forests back to health, as many argued for during the Snetsinger consultation process?  Will it mean developing mechanisms for more First Nations and community involvement in forestry decisions?  Or will it mean something else?
Whatever the Minister's intention, the lesson from all of this seems clear: We need a plan for renewal of our forests which addresses the needs of all sectors of the forest industry, and which has the support of First Nations and communities.
Not half-baked schemes to enrich a few big globalized companies and their financial backers.
Peter Ewart is a columnist and writer based in Prince George, British Columbia. He can be reached at: peter.ewart@shaw.ca