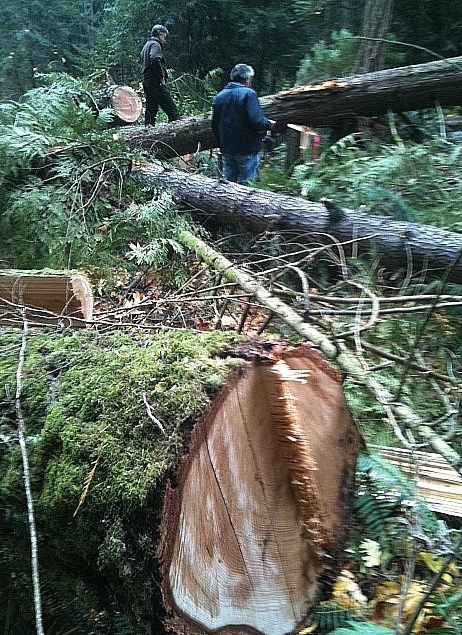 One of the last remaining intact old-growth Douglas Fir groves on Vancouver Island is slated to be logged today, following an injunction last week against protestors who halted an earlier attempt to commence work. The forest, near Nanoose Bay, is known in logging parlance as DL33 and is home to red-listed Coastal Douglas Fir.
The issue is pitting environmentalists against the local First Nation, as the company doing the logging, Snaw-Naw-As Forest Services Ltd, is aboriginal-owned. But conservationists were shocked to learn at the BC Supreme Court this past Friday that the First Nation has already got a buyer lined up to purchase the logs – namely Timberwest.
A spokesperson for the Mid-Island Chapter of the Wilderness Committee slammed Timberwest's involvement in a recent press release. "Timberwest is certified by the Sustainable Forestry Initiative (SFI) – which says on its website that: SFI labels are recognized globally and provide a visual cue to help customers source responsibly managed forest products," said the Wilderness Committee's Annette Tanner.
"And we also note that Timberwest's website states that: 'Protection of biodiversity is a key element of sustainable forest management and TimberWest continually strives to improve efforts to sustain key habitat for plants and wildlife. This endeavor is not only part of delivering on our social and environmental license to operate, it meets the increasing market demand for products from timberlands that have been independently certified as having high standards of environmental management,'" said Tanner.
Having successfully obtained an injunction against the protestors who interrupted early work at DL33 several weeks ago, it is expected the logging will commence today.
The Wilderness Committee and its supporters are focusing their attention on the would-be buyer of these old-growth Douglas Fir logs in a last-ditch effort to save this rare forest. An offer from Timberwest to purchase the logs, obtained by the Wilderness Committee, was dated October 24, suggesting the purchase agreement was likely the catalyst for this logging to commence.
It remains to be seen whether this negative publicity for Timberwest has any effect on the planned work or whether cancelling their contract with the First Nation would prompt its logging company to reconsider the project.