The Valhalla Wilderness Society of the Kootenays is urging citizens to send a message today to the provincial government in opposition of a proposed private power project on the spectacular Incomappleux river.
The province's Integrated Land Management Bureau (ILMB) is accepting comments from the public until midnight tonight (Sept. 20) on private power titan TranAlta's application to carry out potentially damaging feasibility studies for a proposed private river diversion project on the Incomappleux, considered one of BC's most intact old growth rainforest valleys.
According to Valhalla:
The upper Incomappleux River and its very ancient rainforest are the gems of the Selkirk Mountain Caribou Park Proposal.
The valley has been severely logged for a major part of its length.  But the logging stopped before the end of the forest, leaving behind a five-kilometre stretch of river with very rare valley-bottom Inland Temperate Rainforest, with trees up to four metres in diameter and 1,800 years old. Scientists say this forest could have been growing undisturbed since the last ice age. It is part of a 17-kilometre stretch of wild river running through intact wilderness adjacent to Glacier National Park.
This now famous valley has drawn scientists from five countries to study the biodiversity of its ancient rainforest and its extensive wetland. They have found numerous rare species of lichens, mushrooms, snails and plants including a number of red- and blue-listed species.
The organization is concerned that even "feasibility studies" would have a detrimental impact on the highly sensitive and rare ecosystem. "The studies alone will include drilling, and possibly road building and cutting down trees to bring in heavy equipment. This will be a huge investment on the part of the proponent for a development that would then be leverage to get the IPP approved."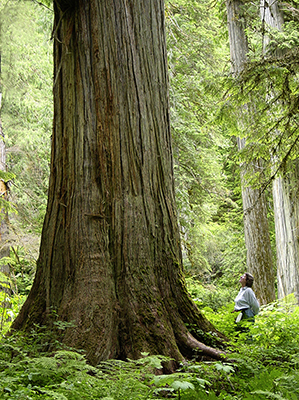 Because the proposed generating capacity of this river diversion project, at 45 Megawatts, falls below the 50 Megawatt threshold, it will not require an environmental assessment from the province.

Some of the key environmental concerns from the project include the diversion of a significant amount of water from the river for an 8.8 km stretch, through prime Grizzly habitat, industrial roads being constructed on the edge of Glacier National Park, and a 75 km transmission line, carved through prime old-growth forest.

Private power projects have been thoroughly criticized in these pages for both serious environmental problems, thoroughly demonstrated by evidence, and for their lack of financial sense for BC taxpayers and hydro ratepayers.
Concerned citizens can register their comments with the ILMB by midnight tonight through their online form.