As another year draws to a close, news outlets the world over are running down their lists of best and worst (fill in the blank) and biggest news stories of 2010. In the latter category, recent issues still fresh in our minds like WikiLeaks, the European debt crisis, the Heathrow fiasco, and the Chilean miners are likely to figure prominently. But make no mistake, 2010 was unquestionably the "Year of the Oil Spill."
I wasn't alive in 1962 at the time of the Cuban Missile Crisis, so I can't begin to imagine what people felt during those 13 days of Cold War terror. But in my lifetime, the blow-out of BP's Deepwater Horizon oil well in the Gulf of Mexico is the single scariest event we've experienced. If you think that's overstating things, let me explain.
Some would point to the financial crash of 2008, or 9/11, for that matter, as the most traumatic events in our recent history. But in neither case did we face such a fundamental threat to the planet itself, and thus our collective survival upon it. The BP tragedy saw us staring both literall and figuratively into the abyss.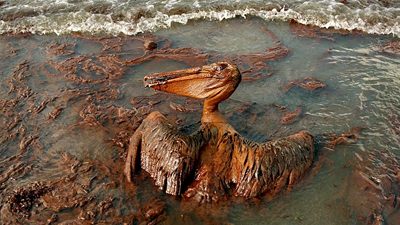 It is thus a testament to our 24-hour news cycle, tabloid-saturated, overworked, short attention spanned society that we have largely already forgotten the sense of sheer powerlessness and intense fear that gripped the world in the months of the Gulf crisis. It is with good cause that Gore Vidal uses the term "the United States of Amnesia." 
I certainly have not forgotten what it was like to hear the daily reports tracing the dramatic upward arc in the scale of the disaster – from 1,000 barrels a day to 100,000 billowing into the Gulf; not ten days but over 3 months to stem the flow (of course there is no real end to the damage, much of it hidden beneath the surface by way of illegal, toxic chemical dispersants)…The exasperation of seeing, for a time at least, no way out of the whole sordid mess. Various increasingly far-fetched solutions – such as the much-parodied golf ball "junk shot" – left us wondering, "Is this really the best they can come up with?!"
We steadily came to realize that we could not trust one iota of what the mainstream media, the US government, and, most of all, BP, were telling us. We found ourselves sifting through youtube videos and purported "experts" on the fringes of the blogosphere, just to cobble together our own sense of what was really happening. Your yoga instructor or coworker were as likely to know the truth as was Katie Couric. Maybe this thin could never be stopped…Would it flow into the Gulf Stream, spreading its deathly red-black ooze all the way to Europe's shores, destroying the whole Atlantic Ocean in the process?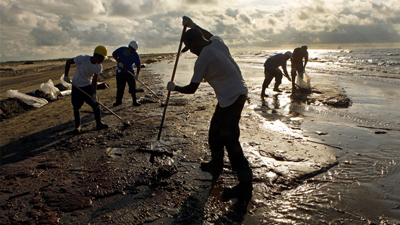 All the while, a slew of breathtaking images poured forth –
the oil-soaked sea birds, the multi-coloured slicks, captured from helicopters by the likes of National Geographic, that spread for hundreds of miles over the horizon.  And the live web-cam producing the single most iconic image of the year: that spewing underwater geyser – a constant, undeniable visual reminder of the havoc being wrought before our very eyes.
On it gushed, as ecosystems and livelihoods were lain waste. Economic damages ranged from $20 Billion and way up from there. The world's best experts, one of its largest corporations, and its mightiest government all seemed powerless to stop it (while the CEO of BP produced a string of appalling soundbites that would have been comical if they didn't highlight such a tragic disconnect with the widespread suffering his company was causing). These gut-punching images brought us face to face – in a way we hadn't perhaps experienced since the Exxon Valdez, 21 years earlier – with the dirty business upon which we've all become so dependant.
But it wasn't just the BP catastrophe that made 2010 the year of the oil spill. Far from it. 
Enbridge – the pipeline company currently proposing to pump over half a million barrels a day of Tar Sands bitumen across the heartland of BC, into supertankers on our North and Central Coast – had three major spills of its own, in Michigan, Illinois, and New York State. The massive explosion of a tanker terminal in Dailan, China, produced some of the most graphic images – of any nature – ever recorded. The Boston Globe's website carried a jarring reel snapped by a Greenpeace photographer that made the Gulf shots seem like Bob Ross canvases by comparison.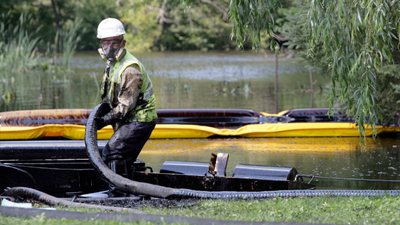 The Gulf itself played host to a second rig explosion – lost in the shuffle o the BP fiasco. A collision between an oil tanker and heavy bulk carrier i the Malacca Straight, off the coast of Singapore, caused a leak of 15,00 barrels of crude oil. In September, disaster was narrowly averted when  tanker carrying 9 million litres of diesel fuel ran aground in the Canadian arctic.
Incidents in Mexico, the Middle East, and elsewhere exposed other vulnerabilities for fossil fuel supply lines – namely, crime and terrorism Thieves attempting to siphon off oil were blamed for the explosion of a Mexican pipeline that took 28 lives, while a Kurdish separatist grou claimed responsibility for the bombing of two pipelines in Turkey – on carrying natural gas, the other oil.
Meanwhile, various authorities and citizens in Tennessee were still dealing this year with the clean-up and lingering environmental effects o the disastrous bursting of a toxic coal ash tailing pond in Tennessee – a catastrophe 50 times bigger than the Exxon Valdez oil spill – that occurred at the tail end of 2008. In October, 2010, Hungary experienced a similar tragedy when a sludge reservoir at a metals plant burst, spilling som 35 million cubic metres of toxic waste on the town of Akja…And we end this year with a fresh round of alarms rung over leaking tailing ponds and the impacts of the Tar Sands on water, human and ecological health, and climate change.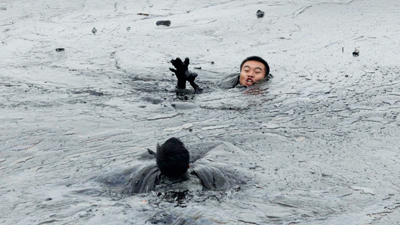 And those are just the big ones. A cursory study of the business of oil, gas, and coal exploitation and use reveals a litany of small-scale – bu nevertheless environmentally significant – pipeline leaks, tailing pond malfunctions, and myriad problems with the extraction, refining transportation, and burning of fossil fuels. They're all just standar externalities – part of the cost of doing business, born by the planet, whil corporations reap record profits.
Many people – and pretty much every mainstream media outlet in the world – have failed to connect the dots, thus missing the lesson to be
learned from these very visible disasters in 2010. They see them as isolated incidents, rather than part of a larger systemic problem. 
The truth is, none of these disasters is an "accident" – rather they are manifestations of an until now largely theoretical concept known as "Peak Oil." They bring us face-to-face with the real-world implications of this phenomenon. This is what happens when you're scraping the bottom of the barrel for fossil fuel energy, which Barack Obama himself aptly referred to as "dirty, dwindling, and dangerous."
Offshore wells like the Deepwater Horizon are being drilled at greater depths today, as easier sources dry up, presenting far greater operational and environmental risks.
The Alberta Tar Sands and their Venezuelan Orinoco counterpart are among the dirtiest and most capital and resource-intensive oil (or bitumen, rather) sources in the world.
Natural gas fracking is a relatively new and enormously damaging process, with severe impacts on our aquifers we've barely begun to grasp while we plough forward with new projects.
So long as we remain dependent on fossil fuels (which looks at this point to be a long time – as long as we can, that is), there will be ever-increasing BP blow-outs, pipeline leaks, and tanker crashes. Despite the assurances of the likes of Enrbridge that we have nothing to worry about with their new proposed projects, we have now seen irrefutable evidence, in gory, high-definition detail, of the inability of human beings to eliminate the risks that attend these operations.
My wish for the New Year is that these powerful images remain indelibly burned in our consciousness. I, for one, will continue to draw upon them in my work – not to score cheap emotional points, but to ensure they serve their purpose, namely, helping us to make better decision regarding our exploitation and use (and hopefully lack thereof) of fossil fuels going forward.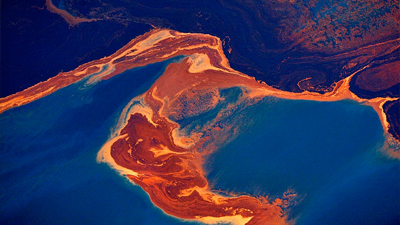 One of the highlights of my 2010 was spending several weeks amid BC' Great Bear Rainforest, traveling the very coastline Enbridge wishes to se plied by the world's largest oil tankers. Having witnessed and documente firsthand the rugged terrain, navigational hazards, and extreme weathe along that stretch of coast – one of the most perilous on the planet – the mere contention that the company could guarantee the safety of thes shipments, or their ability to clean them up should they occur is, simpl put, so preposterous as to be insulting.
So it is heartening to see the lessons of the Exxon Valdez, BP blow-out and pipeline leaks being deployed in the battle to stop Enrbridge in BC With the recent passing of a federal motion(albeit non-binding, at this stage) for a North Coast tanker ban that would effectively kill that project were it made into legislation, and a growing coalition of First Nations, conservationists, and citizens standing together against the project, it appears we may be learning something after all.
So here's hoping that 2011 is the year of conservation, clean energy solutions, and beginning to seriously confront our dangerous addiction to fossil fuels. Clearly, that's naively idealistic – but we'll always have February through December to be cynical about the future.